Yesterday I was cold working a whole lot of things I made in the hotshop, and after almost breaking a massive piece of mine AND a massive diamond saw (and myself!) I decided to call it a day and just make more things and not bother grinding and polishing. anyway, after fiddling around with glass all day and spending over 4-5 hours blowing and assisting, I walked away with around 8 cuts on my hands that were of band-aid seriousness and one particularly deep one on my thumb which has been causing me a fair bit of grief today because its in such an awkward place! I have now come to the conclusion that leisons on the tip or near the tip of the finger are the trickiest and most annoying to care for! So today I bought MORE bandaids, ones with The Wiggles this time, as up to today I have been using nothing but the Simpsons ones. Anyhow I discovered this amazing Brazilian range of designer bandaids whilst browsing a site and I really wanna get my hands on some!

Then today, in between appointments i managed to get a bit of shopping done, and buy this amazing top I've had my eye on for ages. It started when I tried on this beautiful navy blue dress at Country Road, and fell in love with the top half of it, but finding out they had sold out of all navy blue shirts in all the Adelaide stores. And today I walked in and found the new batch sitting there and I got really excited. Upon seeing the amazing runway photos from

Future Classics,

I found myself admiring the same qualities of they garments that drew me to the Country Road one in the first place. I love the mix of army/masculinity with feminine touches. Like the high collared black shirt contrasting with the soft makeup and pin-up hair. I

loooove

.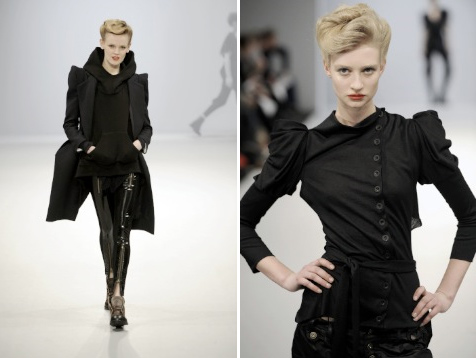 Following the above show I came across this amazing Rittenhouse Anorak which is so lovely and curiously shapely. The collar is amazing and I think it looks both warm and functional, which is exciting as so many garments i'm seeing appear either pretty but unfortunately useless or really sturdy and wearable yet aesthetically unattractive. I also love this anorak paired with the boyish hair cut. so cute!




After spending time with a few really beautiful and unique friends I've started trying to pin-point my own individual style which I find quite hard because I like such a wide array of stuff and take influence from a million different sources! I love a bit of rock and roll/grunge in the form of Rolling Stones Tshirts and rough jackets, but I also love the retro housewife dresses with the cherry buttons. I am also a great hippie at heart and have a love for anyone with dreads and big swirly earrings, as well as those amazing couture garments which appear more like props in theatre productions that day to day clothing. I then found this image, which is nice and clean and quite realistic. I wear only black jeans and like simple but unique tops for work. So this look could really work for me. its just the heels im not so sure about.




And finally for now, before I get back to my artist statement for my glass project, my illustrations and designs for my anemony brooch series and trying to arrange the presentation for two different subjects tomorrow, I will mention something quite random. here it is:
I was actually wondering what the best way of upcycling a vintage table cloth I recently bought would be and I think I found the answer. a dress/jumpsuit thing. yay. this is a dress by APC Mandras. very noice.




.....
..
now I can get back to thinking about how I'm gonna get a whole lot of hay and cartons of eggs to uni tomorrow morning and how I can bring the ocean to the seminar room.